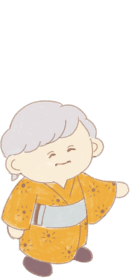 Introduction

The place was full of hints for living a full life.
Documenting a year in the life of Aoi Care, a nursing home attracting attention from around the world.
Aoi Care in Fujisawa City, Kanagawa Prefecture, is the most popular nursing home in Japan today, with a constant stream of visitors and news coverage from both Japan and abroad. The facility is always filled with the laughter of users and care staff, and everyone who visits says either, "I want to spend time here" or "I want to work here." The Aoi Care style of independence-supporting care that helps people be themselves while living their lives is influencing many fields. It was also used as a model facility for the film, CareNin, Thank God You're Here.

Even with dementia, they cook, babysit, and fall in love.
In this film, the director, who is the film's first-person narrator, was asked by the producer to make a documentary about an amazing facility, and spent a year closely covering Aoi Care with camera in hand. The young documentary director, who was completely unfamiliar with nursing care, is at first surprised to see elderly people with dementia enjoying their lives, and later reveals the inner workings of the much-talked-about nursing home, as well as its secrets.
The film, which was made with in-depth coverage of the model facility over a shooting period of one year, can truly be called the "real-life version of CareNin."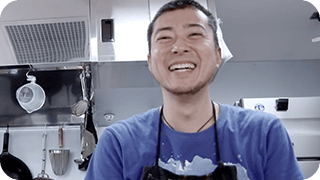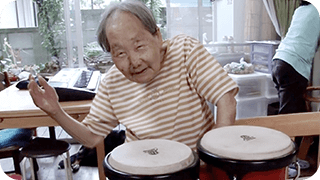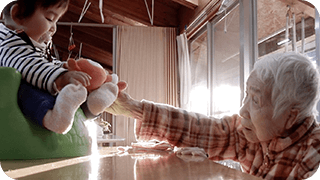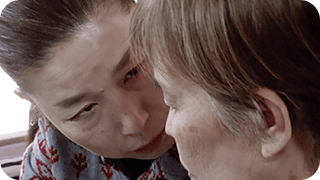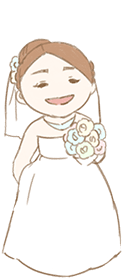 Story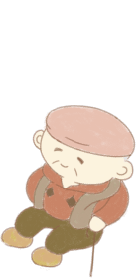 I thought that when someone gets dementia,life was over.
I had never been to a nursing home before, and I had never talked with anyone with dementia, so I wondered whether I could even make a documentary about this place. When I first came here, I was only looking for something special to find out what was so amazing about this facility. But after a year's time, something had begun to change in me....
This is a precious one-year record of the smiling elderly people, the CareNin (care staff), and myself.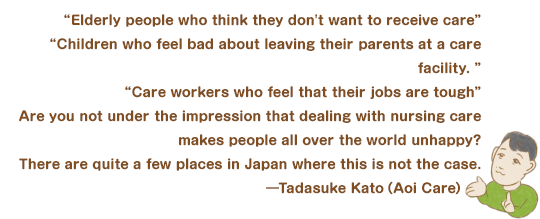 Staff
Narration:Junki Tozuka
Direction, Photography, Editing:Koya Sasaki

Planning and Producer:Hideyuki Yamakuni
Theme Song:Hiromitsu Kagawa
Special Cooperation:Tadasuke Kato(Aoi Care)

Special Thanks:Jun Sasaki (Yushoukai)/ Tadamichi Shimogawara (Silverwood) /Makoto Suzuki
Production and Distribution: WONDER Laboratory,Inc.
Production Assistance: Aoi Care / Otagai-san / Idobata / Yui
©"Grandmas with dementia and me" Production Committee
2019/Japan/Color/70minutes www.bokucare.com
Contact us
Main office / Distribution for screening
Wonder Laboratory Co., Ltd.
28th Arai Bldg., 7F,2-4-5 Ebisunishi,Shibuya-ku,Tokyo Japan
mail: care-movie@w-lab.jp